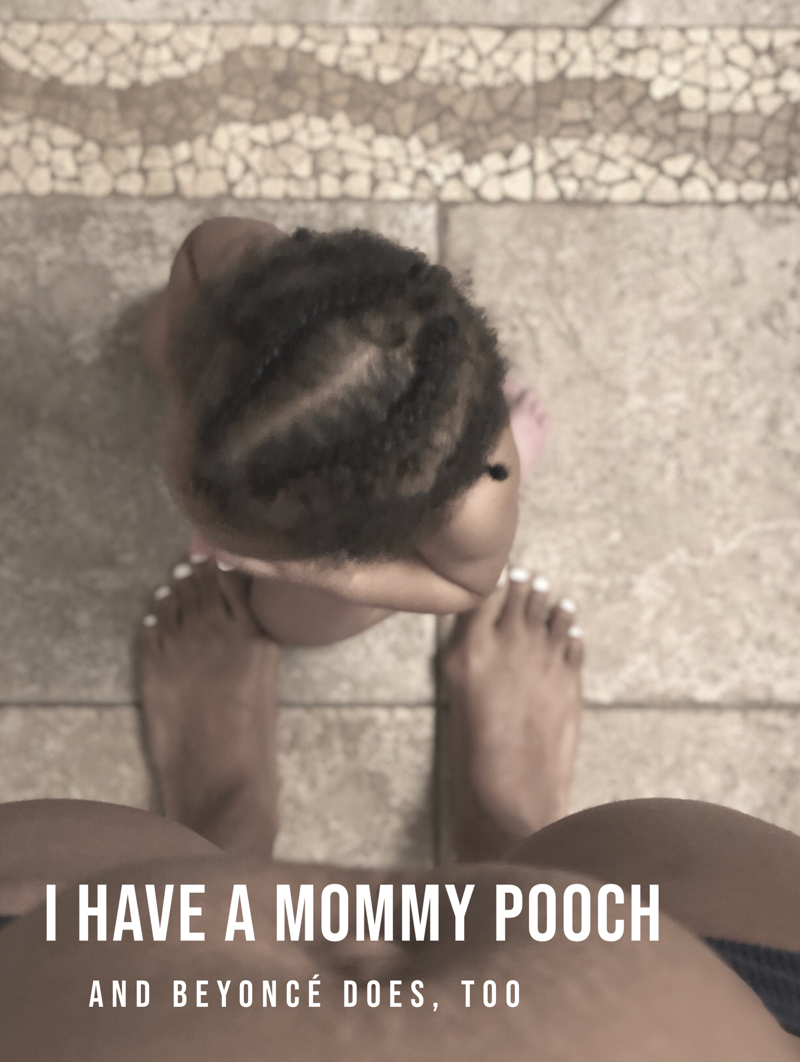 I Have a Mommy Pooch and Beyoncé Does, Too!
It's not often that I get to say that Beyoncé and I have something in common. So, excuse me while I bask in this moment. You see, I have a mommy pooch and so does Queen Bey.
Oh, did you think I was going to mention our uncanny abilities to stop the world with a single Instagram post? Silly, you!   
In the September issue of Vogue, Beyoncé opened up about how her shape has changed since giving birth to twins Rumi and Sir 13 months ago, and why she's not fussing about getting "a six-pack" just yet.
"To this day my arms, shoulders, breasts and thighs are fuller. I have a little mommy pouch, and I'm in no rush to get rid of it. I think it's real," Beyoncé shared, revealing she weighed 218 pounds the day she delivered the twins.
I hear you, girl!
Coping With My Mommy Pooch
One thing I wasn't prepared for was leaving the hospital, after giving birth, looking about six months pregnant. There was so much extra skin and tons of stretch marks with which I had to come to terms. And, while I've lost a significant amount of weight thanks to breastfeeding and a cleaner diet, I can't seem to shake this stubborn mommy pooch. Okay, I take that back. It actually shakes on its own, during any sort of swift movement, but I digress.
I'm happy that Beyoncé came out about embracing her post-baby body because society tells us that we must "snap back" to a body that not many can safely achieve. And in the age of social media, it's so easy to begin to compare yourself to others. I've been guilty of this on several occasions.
I'm not going to lie, some days I wish my stomach was as flat as it used to be. Heck, most days I wish this! But I have to accept that it's going to take some time. I have to look at the bright side; if my skin didn't have the ability to stretch, how could my body manage to carry a watermelon-sized baby? Besides, my son seems to love squeezing my mommy pooch while nursing. It's the cutest thing!
I'm thankful for the weight that I've lost, and I still have more work to do to reach my goal, but I'm also keeping it real with myself. It's going to take time. So for now, I'll just be thankful for high-waisted pants—a mommy's best friend.
Embracing the Mommy Pooch
If you're struggling with the appearance of your post-baby body, remember that everyone is different. Don't compare yourself to the unrealistic images that you may see on social media. Despite what you may feel, your body is way better now. After all, it carried and brought life into this world. And if your pooch is covered in stretch marks like mine, remind yourself that you've earned every one of those stripes! 
Alexa, play APES**T by The Carters.
A mood.